Services We
Offer
03
Large Scale Development
04
Enterprise Grade Development
06
Software with AI Capabilities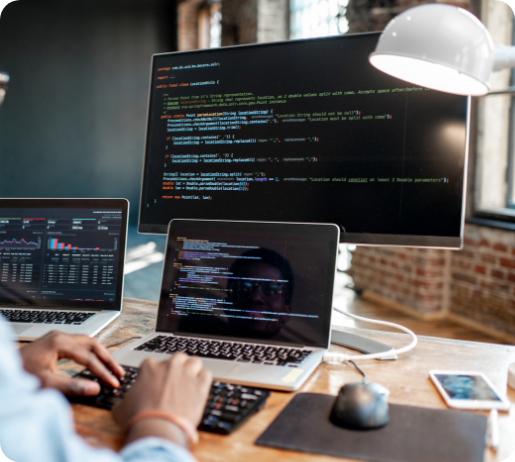 From site work to custom brick and stone masonry, Gardeny can install your project with its own talented artisans and quality landscaping equipment. Using our extensive knowledge of soils, plants, landscape materials, and construction techniques, we are well qualified for any size project. We employ all our resources to achieve the best possible results, no matter the scale.
SoftPort, A Web Development Agency In London Where Experience Meets Innovation.
We have been named as the Leading Web Development Company in London, UK by various leading independent B2B ratings providers such as Clutch, Appfutura etc. We offer integrated project engagement, which includes our teams working with you on strategy, design, content, development, and support/maintenance services. Our main goal is to create an experience that communicates directly with your target audiences and get them engaged with your web platforms.
Web Platforms Designed And Developed
Web Developers And Website Designers Under One Roof
Years In Web Development Business
What We Do? Our Approach To

Customized Software Development.
Custom software development helps various processes handled by those different systems can be integrated into one major software program. Customized solutions can easily be integrated with existing systems and can even be used to extend the functionality of existing tools. There are two main approaches to software analysis and design, namely, Function-Oriented Approach and Object-Oriented Approach. Both these approaches are covered in some detail in subsequent chapters of this book.
Custom software development is usually performed by in-house development teams or outsourced to a third-party. The same processes and methodologies apply to custom software development as other types of software development. A custom project would move through the familiar steps of requirements gathering, code construction, testing and deployment and apply the same methodologies, like Agile, DevOps or Rapid Application Development, as any other software project.

We had a terrific time with Softport from the very first day, the teams are excellent and dedicated to the tasks at hand, We hired a couple of their developers to supplement our deficiencies and worked together to deliver a couple of cool projects to clients-
Mary Benham
Data Security Head, Cipher Solutions

I really admire their professional attitude and the expertise of their teams and people. Softport is a partner we can always rely on just because of that.
Carmen Davies
Owner, Canada Wash
Softport is an important ally for us because they support our processes and deliver services that are personalized to our specific requirements. We also get comprehensive user assistance as well as continued technical consults along with the software itself. -
Peter Evans,
McClaren Constructions

We engaged SoftPort to build a Mobile application that helped us provide services to our 10,000 plus customers and I can say that I am really happy that we chose them even though they were a bit on the higher end they delivered quality par excellence to ensure our customer's satisfaction.
Abdullah Al Enaizi,
VP Customer Service Al Sagayyef group